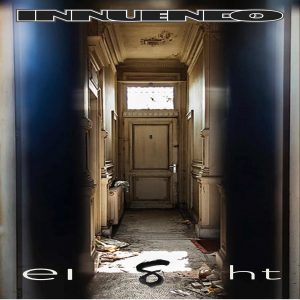 Innuendo are a band that I reviewed a few times during the 2000's and then around the mid-2000's they disappeared off my radar for quite a few years. They then popped up in 2017 with "The Road Not Taken" and here they are again with their eighth album.
They consist of main songwriter Brett Richey who plays guitars/bass/keys together with Pat Laferty on vocals, with Tom Carr completing the lineup on drums. Brett plays in a number of gigging bands, but Innuendo is where he gets to showcase his own songs.
I remember being partial to their 2000's albums, with 'three' being particularly memorable for me. Their last album was a somewhat mellow affair that it took me a few listens to get into. This time the band are giving us the short sharp shock treatment with 11 songs squeezed into 36 mins.
The band describe the music as 'ultra-melodic, AOR, classic hard pop-rock' and talk about the music harking back to an era when music made a statement. Their music has evolved from the acoustic hair metal/AOR of their early albums to a more mainstream retro pop-rock sound.