Yesterrock/ Sony will re-issue the ultra-rare German Hard Rock classic "Victory" by Hanover based band VICTORY on May16th, 2011.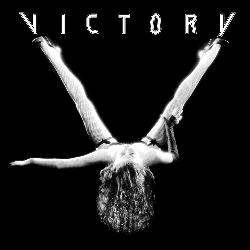 Victory was formed in 1984 from the remnants of the band Fargo. Bassist Peter Knorn, the two guitarists Tommy Newton and John Lockton and drummer Bernie Van der Graaf had all previously worked together in that band. After originally working with singer Pedro Schemm, and later Thunderhead frontman Ted Pullit, former Gary Moore- and Ted Nugent-singer Charlie Huhn became the band's singer. The self-titled album originally appeared in 1985 on CBS Records to mild controversy because of the cover art: a scantily-dressed woman lying on her back with her legs spread, forming a V. The hype worked and the album made the charts.
Today, Victory's self-titled debut album is one of the most sought after, rare records in Germany's Hard Rock history. With the help of Sony Music Germany, Yesterrock now is re-releasing this gem with digitally remastered sound.
Line-Up: Charlie Huhn (Lead Vocals, Guitar and Piano), Tommy Newton (Guitars and Background Vocals), John Lockton (Guitars and Background Vocals), Peter Knorn (Bass), Bernie Van Der Graaf (Drums)
The CD will be available at every Melodic Rock store world-wide and at our online shop from Monday 16th: