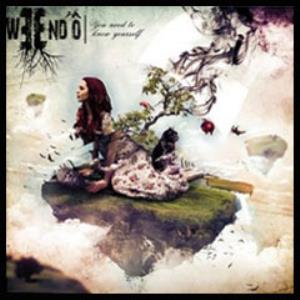 Weend'O are a French prog rock band who's biography describes them as a subtle mix of rock, between Pink Floyd's ambient references and Tool's modern riffs, with the harmonised and uncluttered arrangements influenced by singer Anneke Van Giersbergen (ex The Gathering).
This is their first album which was released back in November 2012. The band consists of Laetitia (vocals & keyboards), Terence (guitar) , Maxime (bass) and Nathanael (drums).
I didn't hear too much Pink Floyd going on and having had limited exposure to Tool, I initially struggled to think who the band reminded me of. More modern progressive bands like Porcupine Tree and Anathema were two that came to the fore, but Weend'O add in more of a mainstream rock element to their sound than either of those two with the guitar more in focus. Taking the vocals into account, I showed my age by thinking of a progressive version of Judie Tzuke. However, the answer to who these guys and girl sounded like was to be found in the biography that mentioned "The Gathering".
While the band describe themselves as progressive and do venture off into a couple of near 10 min tracks (Betrayal and Deadline), the other songs are around 5 or 6 mins and are mainstream with slight progressive overtones. The songs are melodic and if I say pleasant listen, then I mean it in a good sense. Whilst the overall sound isn't heavy, the guys do like to rock out quite a bit in a subtle way with the guitarist earning his money with plenty of activity. On "The Soulmate" vocalist, Laetitia, gets to be the star on an slower ballad.
The version of the album I'm reviewing has radio edits of 3 of the songs included – 2 at the start and 1 at the end. They make the album overly long and I prefer the longer full versions of the songs anyway.
However, that minor point about the bonus tracks aside, Weend'O have created a respectable debut.